In today's digital age, many employees and customers interact with your IT infrastructure using their own devices. This is known as Bring Your Own Device (BYOD). This brings its own concerns, which the malware, phishing and ransomware can infiltrate your system. The attack will surely make IT leaders heads become dizzy, especially if ransomware locking out Your  applications and data, as well as asking for some payment. In fact, a ransomware solution is already addressed in a Disaster Recovery as a Service (DRaaS) which able to restore your whole system and data before infected.
How Disaster Recovery Solution Can Help You With Ransomware?
Ransomware will target critical applications in your internal system, then target the data. The cyber criminals understand how you get the data and restore the system. They will also look for backup and after that to perform encryption overall.
After that, ransomware will begin to ask for money. In this case, the best advice of some experts is never pay for ransom. However, from worst choice that may exist, better if ransomware motivated by payment than if they're not asking any thing from You.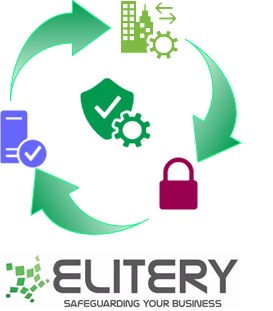 In this case, the solution in addressing the ransomware should be supported with Disaster Recovery as a first step in dealing with ransomware attack.
Here are the steps that can be done as a solution to overcome the ransomware:
Switch operations to

DRC site

or DRaaS (Fail-Over)
Close ransomware backdoor (patching)
Retrieve data from the DRC or DRaaS at the best restore point (last known good configuration files)
Restoring the entire system and data (Fail-Back)
Enforce security compliance regulations.
Some kind of ransomware will attack slowly, it can take 90 days. Their algorithm can change virus signatures per 18 seconds. Therefore, a backup system should be able to detect these pattern. Only a backup system or a service agent with behavioral recognition can be trust to rely on.
Baca juga tentang : 4 Langkah Mudah Elicovery Solusi Disaster Recovery as a Service (DRaaS) untuk Amankan Data Anda dari Ransomware!
Mitigating Ransomware With DRaaS
By identifying ransomware patterns change, a backup system can protect your data replication with self-protection mechanisms. When ransomware starting to encrypt, a backup systems should be able to stop replication process. Thus, all exploited end encrypted data before the termination process can be restored.
Enterprise grade DRaaS can meet your company's needs in facing a ransomware threat. Especially for fintech, banking application, online insurance, and the whole business involving transactions in cyberspace. At this point, we can understand the regulations set by Bank Indonesia and KOMINFO to use disaster recovery solutions is not just about data soverignty.
An isolated disaster recovery is required to prevent this cyber attacks and all other downtime factors. This must be in a different place than your operational data center. An offline backup that able to restore your applications and data at the best restore point is the only solution to safeguard your IT business operations.
Elitery provides a Disaster Revocery as a Service (DRaaS). Elitery DRaaS solution powered by our own TIER III data center certified by the Uptime Institute and achieved data center security certification ISO 27001. In addition, Elitery DRaaS use technology that can meet the needs in mitigating cyber attacks including ransomware as described above to safeguard Your Business.
Please contact us to get more information about DRaaS solution to support your business continuity program to the next level.