The IT professionals and corporate leaders may take lessons from Irene Hurricane events in the United States. Many companies have not yet to put experts as a 'gatekeeper' during a downtime. This brought on the current conditions, where now some states in the US frozen.
In such difficult situation, the company should be able to ensure the success of fail-over. With a target of Recovery Time Objective and Recovery Point Objective shorten increasingly, it can be one basis for measuring the performance of your company's Business Continuity Plan.
Therefore, preparation of plans and testing / simulation Disaster Recovery (DR plan) is the most recommended advice from data center experts worldwide. Prepare a good plan to avoid 5 Disaster Recovery plan failure factor below.
5 Failure Factors of Enterprise Data Center DR Plan
DR plan does not include all critical systems.
DR plan was not relevant to the current IT infrastructure.
Lack of IT staff awareness.
Lack of discipline against DR testing requirements on a regular basis.
Lack of integration between DR Plan with running business.
Five factors above is very critical, especially for business with massive digital transactions. Thus, Disaster Recovery Plan should be guaranteed to run smoothly according to DR plan and strategy. As a first step, make sure you have good technical resources to support recovery after disaster or downtime event.
Disaster Recovery Plan your IT operations must define some phases of the incident and the steps need to be done to each phase. Those phase can be seen from the diagram below.
.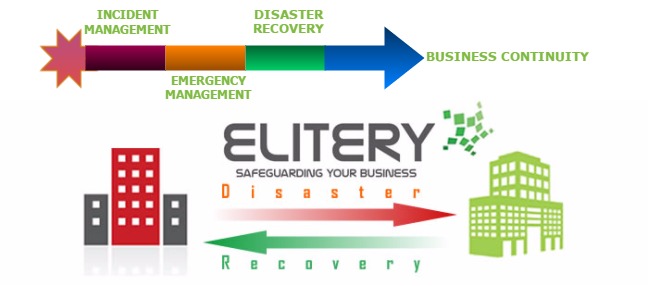 While testing your critical systems aimed to determine the effectiveness of fail-over system that need to be done periodically. The test period can be set from the history of downtime for a few years before.
Ensuring Your Disaster Recovery Plan Works on Critical Event
Disaster or downtime can not be predicted, it has been many years haunt the leaders in large companies. Downtime can only mitigate and eventually be restored. Business continuity plan should include how business operations can survive, do not give up so easily on the factor of force majeure. In any business today, downtime is not acceptable.
Read More : Elivault sebagai solusi Backup as a Service Untuk Menjaga Keberlangsungan Bisnis Anda
Only by ensuring your Disaster Recovery Plan can continue to run at a critical time, the business operations can also keep running. Now, more and more businesses have realized that there is no point in the Users and Customers know the problem of downtime is happening. Downtime will reduce user and customer experience, it also can have an impact on the level of trust of all stakeholders to your business.
The entire outlined Disaster Recovery procedure should be tested for its effectiveness to ensure fail-over readiness in a state of unpredictable downtime event. Be sure that all components or critical assets existed on your BIA (Business Impact Analysis) can support temporary operational for your business. On top of that, all of the components needed for fail-over and fail-back process must be ensured always in a ready-condition to deal with unforeseen circumstances.
Based on best practices, a backup data center sites must be in a separate location from the main data center. The distance between the DRC and production data center ranged radius of 50km, it is to maintain the integrity of the data that may be out of sync due to network latency.
For enterprises in Jakarta, can use Elitery Disaster Recovery Data Center which is located in Bogor. In addition to being under a radius of 30 KM, located 200 meters above sea level, the temperature is cooler and infrequent floods or riots.
Elitery exists to support enterprise's mission critical and also to support better Indonesia investment climate in. With certified TIER III Data Center from the Uptime Institute and the Information Systems Security Management Certification ISO 27001, as well as the support of experienced experts and certified internationally, you can trust Elitery as a reliable DRC partner for your company.
Feel free to call us directly at +62-21-750-2976 or simply by filling out contact form below for further questions and presentations, Elitery team will immediately respond to you.