Pelaksanaan sistem pemerintah berbasis elektronik telah menjadi standarisasi pemerintah Indonesia dalam mewujudkan pelayanan publik yang berkualitas dan terpercaya. Untuk mempercepat transformasi digital tentu tak jauh dari dukungan teknologi seperti teknolog Cloud. Di lain pihak, ketergantungan pelayanan publik dan bisnis terhadap infrastruktur digital menyebabkan permasalahan baru yaitu resiko kehilangan akses dan informasi akibat bencana yang terjadi setiap saat di Indonesia. 
Baca Juga : Meminimalkan Kerugian Bisnis Akibat Bencana dengan Disaster Recovery Plan
Keberlangsungan bisnis merupakan prioritas utama bagi Pemerintah dan Perusahaan. Maka dengan itu, Elitery bersama AWS menggandeng DTICX untuk memberikan ruang diskus bersama para pakar yang ahli dibidangnya terkhusus dari sektor Pemerintahan untuk membahas regulasi tentang pemulihan data dan pencadagan data seperti Peraturan Otoritas Jasa Keuangan (OJK) No. 4/POJK.05/2021 tentang Penerapan Manajemen Resiko Dalam Penggunaan Teknologi Informasi Oleh Lembaga Jasa Keuangan Non Bank (LJKNB). 
Dalam Webinar tersebut akan dibahas tuntas seputar Disaster Recovery as a Service (DRaaS) yang sesuai dengan regulasi Pemerintah dengan tema "Disaster Recovery : Solusi Komprehensif Dalam Menjaga Keberlangsungan Bisnis di Era Transformation Digital".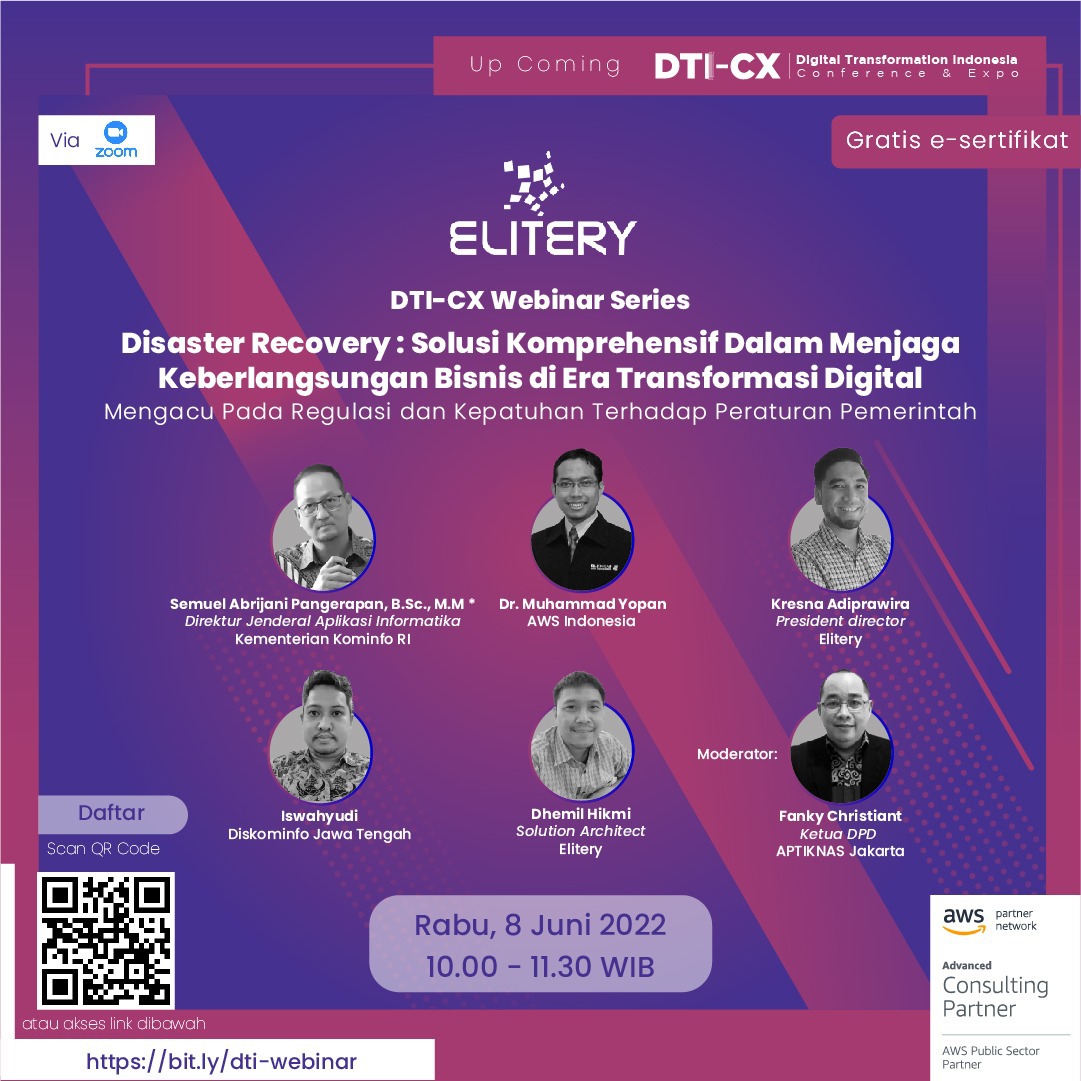 Webinar akan diselenggarakan secara virtual, pada:
Hari, tanggal : Rabu, 08 Juni 2022
Waktu : 10.00 – 11.30 WIB
Via : Zoom Meeting
Link Registrasi : https://bit.ly/dti-webinar
Webinar ini akan mengundang Anda dan banyak IT Director, IT Infrastructure, IT Business Analyst, IT Operation, IT Professional, IT Executive, IT Government, High-level government officials, Secretary-General and Head of IT, etc.. untuk sama – sama mendengarkan paparan langsung dari para speaker yang ahli dibidangnya. 
Bersama: 
Semuel Abrijani Pangarepan,

B.Sc

., M.M – Direktur Jenderal Aplikasi Informatika Kementerian Kominfo RI

Dr. Muhammad Yopan – AWS Indonesia

Kresna Adiprawira – President Director Elitery

Iswayudi – Diskominfo Jawa Tengah

Dhemil Hikmi – Solution Architect Elitery

Fanky Christiant – Ketua DPD APTIKNAS Jakarta

Muhammad Bahesti – Ketua Tim Teknologi Informasi DAPEN-BI
Segera daftarkan diri Anda dan dapatkan e-certificated langsung dari webinar ini. Temukan solusi yang tepat untuk menjaga keberlangsungan bisnis Anda melalui webinar yang luar biasa ini. Daftar sekarang juga di https://bit.ly/dti-webinar . Jangan sampai ketinggalan ya! 
Elitery
Safeguarding, Accelerating