In today's fintech era, banking services will become increasingly varied. Blockchain and hyperledger technology can make banking services faster, more convenient, more efficient and cheaper for everyone. This will require continuous innovation to pursue competitive advantage. DevOps method known to overcome IT difficulties, so the bank institution should implement its collaboration culture.
Innovation in banking services has become imperative, the choice: to be left behind or to keep adjusting to change, both to maintain business and to become a market leader.
The DevOps Method On Digitizing Banking Services
Basically, fintech startup companies have implemented the devops method. We can take the example of Go-Jek with GoPay module which has been crowned as a national electronic payment instrument. Startup companies that implement DevOps will always be improvising in the market. This encourages large companies to quickly respond to that conditions in the field and certainly can only be done with the DevOps method.
Read More : An Ideal Data Backup In The Ransomware Attack Case
DevOps is a work pattern that merges the operational and development sections by eliminating constraints. For example, in an IT infrastructure, testing of new innovations often causes problems with ongoing banking services. Conditions of mutual blame between the operational parties that maintain banking services with the developer's part often occur.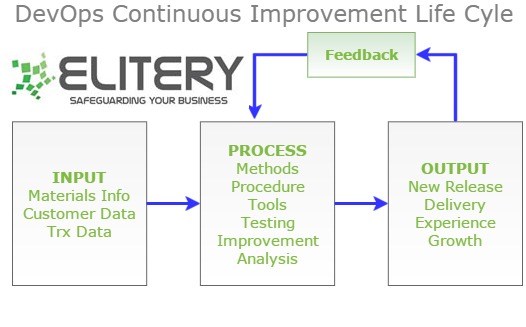 DevOps Cycle On Digitalization of Banking Services
With the devops method, testing can be done on the system that is running. This will lower the system failure rate if there is a wrong program code. Service paralysis is still a frightening specter in almost all major companies. However, with the DevOps method, if there is a program code malfunction then the system will perform isolation and that already affected will be replayed to the best condition before. Thus, companies now do not have to worry about the impact of the innovation process and can innovate faster and more frequently.
Innovation in banking services will enhance the customer experience. Where the banking customers will be more comfortable and easy in conducting electronic transactions, but security issues will continue to follow the development of the world of digital technology. Therefore, the concept of zero trust network should be applied and this requires a DevOps environment.
Handling downtime will increasingly require a considerable cost, in addition to the impact will be much greater. DevOps will require disaster recovery tools to keep operational running. Disaster recovery is an infrastructure that is both technically and regulatory.
Elitery comes with a world-class data center infrastructure and most reliable data center to support your primary data center infrastructure. With experienced experts in the world of DevOps both in Indonesia and in some countries, Elitery can be counted on as a partner of the application of DevOps in a company that is improving banking services for its customers.
Please contact us at +62-21-750-2976 or through the contact form below, our team will respond to you soon.
[pirate_forms]