Digital transformation has become a necessity in every company. In 2017, the Internet of Things products will flood Indonesia market. This will encourage a new shift in the way people of doing things. This is a main reason why continuous digital transformation should be made in every business.
Internet users in Indonesia has reached hundreds millions users. Previously, we read the news by buying a newspaper, now we can simply access online news media portal, or simply read at social media. Such methods is growing and cause a shift in many ways. Digital transformation is not an option to do or not, but a necessity for every business and industry.
Digital Transformation Main Purposes
Increased satisfaction and customer experience and employee is the main destination does digital transformation. In a business environment, reliability and speed of doing things is an important factor of business success today. By doing digital transformation using best practices, your company can reap many benefits. Such benefits may include:
Converting higher sales
Time and cost efficiency
Ease in getting feedback from customers
Speed in adapting to change, and so on.
Many startup companies outperformed large companies for innovative ideas. The startup company has aggressively capture market share. Digital transformation can be useful to secure your business.
Digital transformation means that your company has adequate visibility of the customer. With visibility of these customers, the company can carry out the analysis (and can even be done automatically). Then the results of the analysis can be discussed at the management level with the results in the form of the latest innovations. Then the idea submitted to the developers to create new features that are beneficial to your business operation.
Read more : Benefits of Digital Transformation From Operational Point of View
The company's ability to deploy new features can provide a unique position in the business and increase competitive advantage. Companies can rapidly adapt to any changes out there.
By implementing a continuous digital transformation, business performance and service will keep increased. Next, how to implement digital transformation for the right target?
DevOps as Digital Transformation Fundamental
Ease of processes will improve efficiency and effectiveness to your business operations. The collaboration between development teams and IT operations management team is an important factor in implementing digital transformation. It becomes intents and needs a working pattern with DevOps approach.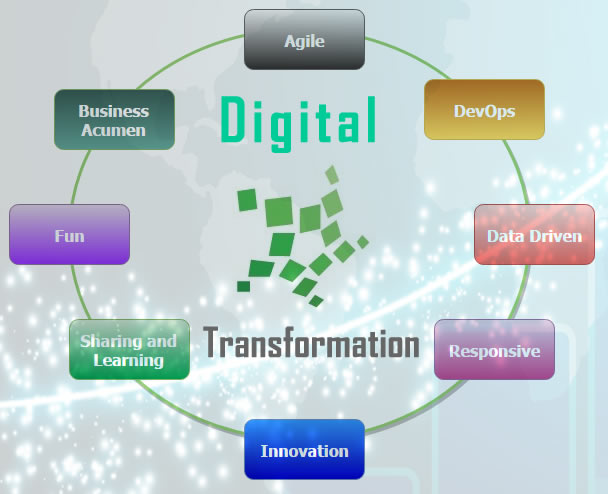 To create a new feature, the IT environment in the company should be able to synergize well. Any new features that will be in the title, require testing. If a few years ago, the tests performed on the system environment part of the developer and often cause problems when changes are on the run. And many companies implementing digital transformation from the beginning.
Today, testing can be done directly on a running system (live testing) without causing outage. By facilitating collaboration between development teams and IT operations teams, errors in coding and system failures can be decreased dramatically. The synergy between departments is increasing. Applications and services quality increased.
In conducting digital transformation, strategic planning must be arranged in advance. Rapid technological developments, can make changes in anything. DevOps is an absolute needs in implementing a digital transformation in your company. So that your company can more quickly adapt to changes.
Success in the Digital Age

Today, the company's success is measured from the ability to roll out new features for both internal and for customers. Because of the way people do things faster shifting, this causes increasingly necessary digital transformation. The shift is of course that provides convenience and bring unique experience to the higher level of customer satisfaction.
Even for things that previously we consider trivial, if treated properly can provide a fantastic advantage. The discovery of the idea of innovation can be obtained by applying the DevOps culture in the digital transformation cycle. Especially for companies that deal directly with the public, digital transformation is a requirement to be able to retain existing business. If this is not done, startup companies both from local and abroad have a lot of pop and erode market share over time.
Thus, we can conclude if business get faster with adaption to the change, this will bring more business value and higher competitive power.
You can trust Elitery as a partner in conducting digital transformation for your business. Besides having some experts both in Indonesia and abroad, Elitery also supported with world class IT infrastructure facilities. Elitery can bring great efficiencies for companies to perform continuous digital transformation.
Feel free contact us at (+ 62-21) 750-2976 or via the contact form, our team will immediately respond to you.